Welcome to the "Olde Meichsner House"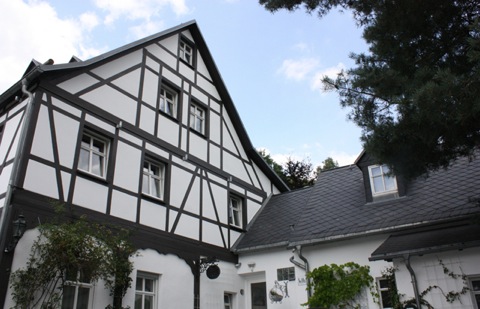 4-star holiday apartments in the state-approved resort Bockau / Erzgebirge.
The cosy and practical accommodation leaves nothing to be desired:
En suite shower and toilet

Optional breakfast


Complete kitchen

Central heating

1 to 7 beds, more if necessary

Cable TV

Barbeque-hut with roofed seating

Each apartment has its dedicated space in the large gardens plus table tennis, bicycles for hire

Only a short walk for:

Supermarket

Bakery

Butcher

Café and Pubs

Bicycle hire

Filling station

Chemist's shop, doctors

Tennis, out-door swimming pool

Bus station

The Olde Meichsner House

This historic building was built in Bockau by Michael Bauer in 1639.

In was rebuild in 1993 as an original timber-building almost from scratch using old drawings after falling into complete disrepair after the long use.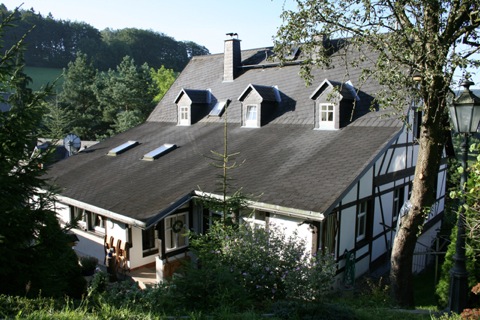 The three holiday apartments (4 stars) have been created in 1996 and are lovingly fitted out – with TV, kitchen or cooking facilities, bath and heating. The furniture has been carefully chosen to fit the tradition of this historic building.

Bicycles and a covered barbeque-place are provided for our guests. There is also ample parking space on the premises. Several seating areas in the gardens in front and on the back of the house make for a relaxed holiday. Breakfast can be ordered at an additional small fee.

Almost next to the house one of Germany's largest continuous forest-areas are there for making long hiking trips, with all paths well sign-posted. During winter several cross-country skiing-tracks are made available close by. This is a relatively snow-proof area and thus the Olde Meichsner House is ideal for winter sports.

The Olde Meichsner House is the ideal vantage point for exploring the Erzgebirge, the wonderful old village of Bockau and to relax in pure, unspoilt nature.

Excursions many guests enjoy are sightseeing-trips to the historic towns of Dresden, Meißen, Leipzig and Karlsbad.


Bockau and its surroundings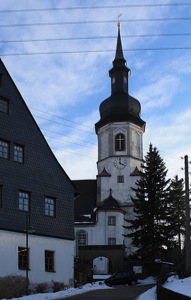 Bockau is a small village of 3,000 people living in this state-approved resort, situated in the western part of the Erzgebirge, also known as the 'nature park' Erzgebirge / Vogtland.

It is a three miles trip to Aue in Saxony, 5 miles to Schneeberg, 16 miles to Zwickau and 22 miles to Chemnitz. Day-trips to Dresden (65 miles) or Karlsbad (40 miles) can be easily done.

The nature park is an ideal place for hiking in unspoilt surroundings, well-maintained hiking and riding paths invite to untouched woods, brooks and wetlands. During wintertime there are plenty of well-prepared cross-country tracks for all your winter sports needs.


The little village offers an open-air swimming pool, tennis courts, well signposted hiking paths, three pubs, one hotel, a chemist's shop, a filling station and a local post-office. In the nearby Eibenstock there is also a brand new recreational pool for fun-activities open all year round.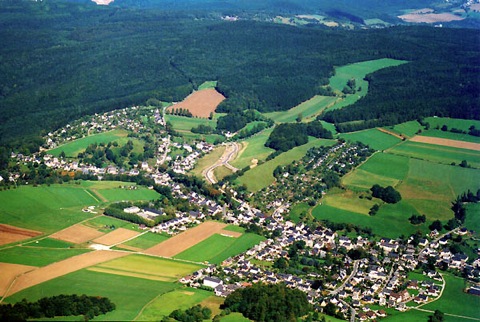 Bockau itself boasts a very active skiing-club and has its own natural ski-jump. Several religious communities attest to the deep faith of its inhabitants.

The Erzgebirge is a large high-elevated plain with several deep cut valleys and peaks between 1,300 and 4,000 feet. A number of reservoirs near Bockau emphasize the features of this beautiful hilly countryside.

There are a number of technical and local history museums and plenty of shops selling the traditional wooden toys, the Erzgebirge is famous for. Highlands of the summer season are the mountain parades at Schneeberg and Anneberg-Buchholz, whereas in winter and especially at Christmas time the illuminated windows in the villages and charming little towns make for a real cosy sight.

We are very much looking forward to seeing you at the Olde Meichsner House!